Troy Titans Football & Cheerleading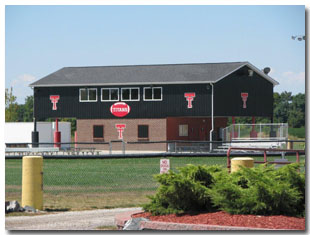 Troy Titans Football holds practice and games in Tri-Township Park. Any questions, please contact us through the Troy Titans website (
https://troytitans.engagesports.net
/) or email (
troytitansfootball@gmail.com
)
The Troy-Titans Fieldhouse in Tri-Township Park is completed. The fence and goal post are in place. It is a beautiful facility on the west side of the Park.
Signups are now open! Practice starts late July: ages 5U-12U
Sports Fields
Troy fields located in Tri-Township Park: Park is located between Rt. 162 and Old Collinsville Road in Troy Illinois
Each field is Numbered. MAP OF PARK

Here is the field and weather cancellation hotline info for:
Highland:
Gilk Park, 12525 Sportsman Rd Highland, IL 62249
Weather Cancellation Hotline: 618-654-7042
Signup for Highland Parks and Recreation email notices - click on parks and recreation then enter email
We are on Facebook – "Korte Rec. Center / Highland Parks and Rec" group
We are also on Twitter – www.twitter.com/Yourparksandrec
St. Jacob:
The Park is just off West Main Street (coming off Highway 40, cross the railroad tracks, go straight thru town to the second stop sign, The Lucky Rooster is a landmark, make a right onto West Main Street and the park is down about 3 blocks on the left) and our
Rain-out Phone number is 644-8301.Troy:Our rain out number is 618-667-7374
. From O'Fallon, come up Troy-O'Fallon Road. Cross over Highway 40. Next stop sign, turn left. This becomes Collinsville Road. Go about 1 mile and see the Senior Center (white house) 409 Collinsville Road on right. Turn right into the park. Attached is a general map of the Park. All baseball fields are marked.
If your parents want to come up on 55/70, we are exit 18, Rt 162. Turn right and go past all the fast food places. The 2nd red light, turn right on Riggin Road. That brings you directly into the Park.
O'Fallon:Rainout Hotline updated at 4pm (618) 622-1439
or check our
website
and then click on Baseball and Softball for youth
For O'Fallon Fields # 1 (Blazier field), # 2, # 3 and # 6 are all located in O'Fallon Community Park, 308 E. fifth street in O'Fallon 62269.
Click here
for Map quest directions
For Shiloh Community Park (1 Park Drive, Shiloh IL 62221) Field B and C
click here
for Map Quest directions
Belleville:Rainout hotline (618) 257-6910
Jr. High is 1801 Central School Road, Belleville, IL 62220